Description
The Technology Architect is responsible for the strategic choice of technology. The Technology Architect's work area include responsibility for design of the central datacentre and/or decentralised IT infrastructure and maintenance of the infrastructure.
The Technology Architect is also responsible for applications and IT services across the organisation is maintained and updated – that means, when changes and updates is available they will be rolled out in a consistent way.
The Technology Architect works closely together with the Application Architects and the other architects to secure a technical architecture design that will fulfil the non-functional requirements the business is having (scalability, trustworthy, management, performance and security) and to ensure that the solution that is developed /bought fit within the decided infrastructure.
A Technology Architect will often be specialist within one or more product areas, like network equipment, servers or directory design/implementation, and maybe have one or more certifications. In organisations where you are not using the term as a job title, the role could be taken by a employee with titles like Chief of IT, System Administrators, Developer or Solution Architect.
Competence Profile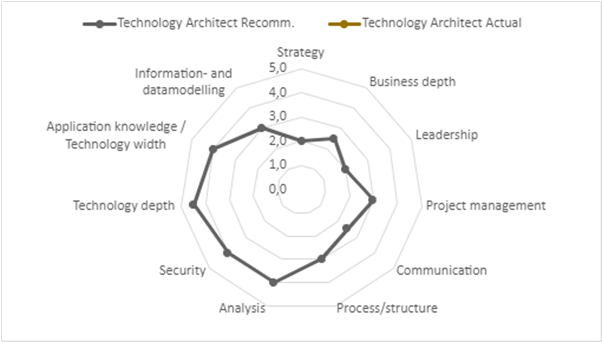 Good Advice
In Danish you will often see the term" IT architect", but it is not a precise designation. Also, the more precise designation" Infrastructure Architect" is seen. The Technology Architect in English is often called" Infrastructure architect"," Technology Architect" or "System Architect".
The Technology Architect uses the part in the common public-sector digital architecture methods and tools on digitaliser.dk, that focus on technical standards and infrastructure.
Last updated 2020-12-23 by the Advisory Board for Danish IT Society Architecture Certification.