Description
The Solution Architect is responsible for the execution and change, that is described by other Architect roles, that can be within Technology, Application, Information or the database area, and in more rare cases in relation to organizational changes. The Solution Architects work area spans from the responsibility of making a review of the design of applications and infrastructure, over the connection between them, and the implementation of the solution that is designed.
The Solution Architect is often engaged in relation to modernisation projects, where he/she will be responsible, together with the project manager, to secure the solution that is designed, is made in the way it is constructed to the agreed time and quality.
The Solution Architect work close together with the other architects to secure an architectural design, that will live up to the functional and non-functional requirements that the business demands, and to secure that the solutions that will be implemented fit together with the decided enterprise architecture.
The Solution Architect often comes from a specialist area, within one or more product or application related areas, ex. Application development, network equipment, servers or design/implementation, and might have one or more certifications. In organisations where you are not using the term as job title the role might be taken by employees with titles like IT Architect.
Competence Profile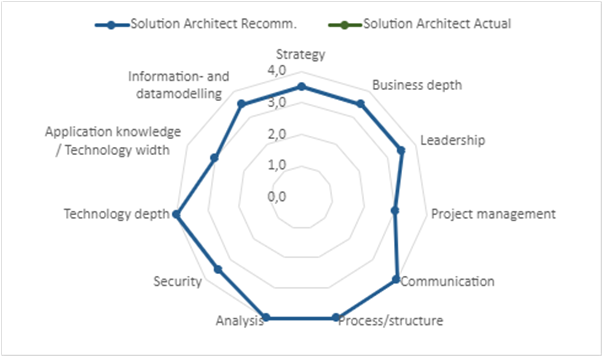 Good Advice
In Danish you will often see" IT architect" used, but it is not the precise designation. The Solution Architect in English is often called a" System Architect".
The Solution Architect uses the part of the common public-sector methods and tools on digitaliser.dk or Danish IT Society Architecture Competence Framework that focus on technical standards and projects with changes to application or infrastructure.
Last updated 2020-12-23 by the Advisory Board for Danish IT Society Architecture Certification.