Description
The Information Architect is responsible for the modelling of data and the information that is used.
The Information Architects primarily focus is on Information. Through close collaboration with the Business Architect and the Application Architect, the Information Architect will make sure data is going through models so they can be used in a consistent way across the company.
In organizations where you are not using the term itself as a job title, the role could be taken care of employees with many other titles like Information Officer, Librarian, Editor, Specialized Consultant or other, but it could also be specialists with many other titles. It can be people from the business, or developers from the IT department. The characteristics is the ability to combine business related domain knowledge with the competence to define and modelling terms, aspects, content and more.
The Information Architect has a lot of experience within logical and physical database modelling, "normal forms" ..
The Information Architect can come with experience as database administrator, and thereby have a more technical database background. The Information Architect will also have experience with administration rights (Protection of data).
Competence Profile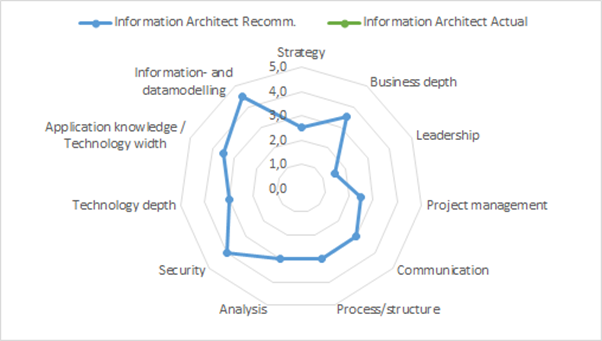 Good Advice
Normally the Information Architects will be split into two groups:
Strong within object-oriented modelling and logical data modelling.

Specialist in physical data modelling and database administrator.
So, bear in mind; the Information Architect is not necessarily strong within both areas, when you plan for competences.
The Information Architect will make use of the shared public methods and tools, with a special focus on FDA standards in the work.
Last updated 2020-12-23 by the Advisory Board for Danish IT Society Architecture Certification.