Description
The Business Architect is responsible for business modelling and can work with business strategy and business processes. The Business Architect is typically working with techniques like BPMN to make model of processes and business services.
The Business Architect is often very knowledgeable to a specific business area – like social security, or more specific the pension area – and is responsible for getting the right foundation for decision making, with regard to business strategy and architecture, and to ensure that the systems will work together across the business (to avoid silos). The Business Architect understand the way to view the business area as a unit, so cross functional dependencies can be taken into account and be prioritised.
The Business Architect can also have detailed knowledge to one or more specific areas – and thereby be accepted as a domain expert and have competences within management of the area.
The Business Architect often participate in dialog with business units in regard to possibilities for IT support of the business, and support the other system owners within the business.
In organisations where you will not use the term itself as Business Architect for job title, the role could be handled by more experienced employees, with titles like Project Manager, Chief Consultant or Special Consultant, but it could also be specialists with all other kind of titles like, IT Business Consultant. What characterizes the Business Architect is the ability to combine domain knowledge with competences to define and model processes, services, abstracts and more.
Competence Profile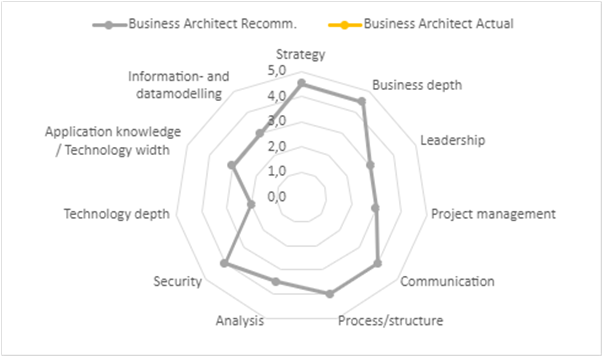 Good Advice
The role should not be mixed up with an expert within his fields; an expert is more deep into his/her area (could be specialized consultant within a specific area), but on the other hand not the broad in the area.
The Business Architect use the public methods and tools with special focus on process modelling and in business objects / terms in relation to FDA standards.
Last updated 2020-12-23 by the Advisory Board for Danish IT Society Architecture Certification.