Description
The Application Architect is responsible for the design of the application landscape, integration and services in the organization – typically within a business area (ex. health, social or environmental) or a more cross functional domain (ex. financial-, HR- or office applications).
Naturally, the Application Architect collaborate closely together with the other Architect roles, but especially with the Technology Architect, to secure that the application and the infrastructure fit together.
The Application Architect corporate, beside the above, closely with Information Architect to secure the most optimal exchange and use of information.
Collaboration with the Enterprise Architect and Business Architect is around the functional demands to the solution – meaning how do we secure the need of the business and the user in the best way.
The Application Architect do also collaborate with external partners to secure interoperability and the use of the relevant standards.
In organizations where you are not using the term as a job title, you will often see the role taken care of by people with titles like Developer, Software Developer or Solution Architect.
Competence Profile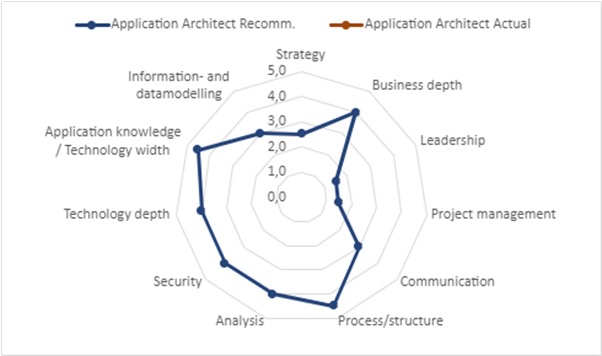 Good Advice
In Denmark the Application Architect is often known as "løsningsarkitekt" or "softwarearkitekt". In English EA, the Application Architects is described as "Application Architect", "Software Architect", "Data Architect"," Solutions Architect" or "Integration Architect". Note that Danish IT Society Architecture Competence Framework has a special role that describes the "Data Architect" – that is the" Information Architect".
The Application Architect make use of the Danish public agreed methods and tools on digitaliser.dk, fda.dk and in Danish IT Society Architecture Competence Framework with a special focus on data standards, interfaces, web services, technical standards, software components and shared infrastructure solutions.
Last updated 2020-12-23 by the Advisory Board for Danish IT Society Architecture Certification.